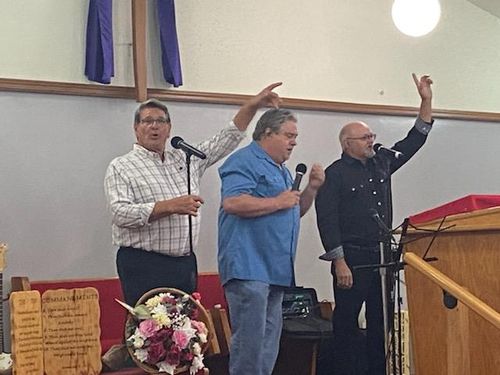 This week Riven was in Wolf Lake, IL at Faith Assembly of God.  The group Redeemsmen were the featured group. We were honored to be included in this benefit concert for The Closet Ministry that has opened its doors to help those who are in need.  It was a great night with pulled pork sandwiches with an amazing BBQ sauce.  Amanda had the Lord lay on her heart to start an outreach ministry for families in the area who are in need of clothing and housewares.  All donations are accepted and the prices are according to what can be afforded.  
The Saturday, before Easter, Riven was in Girard, IL singing at the local Easter Egg & hunt celebration. We were also honored to have Royalty in our midst.  Both Miss Macoupin County and Miss Girard were helping to host and direct the egg Hunt.  This is the 10th year the Church has hosted an Easter celebration. We were so pleased to sing and celebrate Jesus as the children and their parents enjoyed the playground, the hunt, and the food.   (More pics on the  Photo Gallery page)
it's a new year with new things coming
As I'm sure you've discovered from the picture that is atop this web page...we have a Bass singer...or two. Joe Greatorex (on the far right) hails from Alabama and Hunter Segers (on the far left) hails  from Missouri via South Carolina.  We will from time to time be a full-fledged quartet and these two men will join us, as their schedules allow, to add those wonderful LOW notes to help round out the wonderful harmonies!
The Lord is doing some great things in Riven.  We are always pleasantly surprised when He does.  There is a purpose behind calling ourselves a Music & Ministry group.  Not only do we want to be outside the 4 walls of the church actively going and doing the Ministry the Lord has given us. The Lord has heard our prayers and dreams and began a new phase of our ministry.  We will be expanding our ministry by helping to make others dreams a reality.  We will share more when the time comes...but suffice it to say that we want to be the Salt of the earth and a Light set on a Hill!